Description
Adult standards and formal rules become the focal point. The demands of skill training as well as training loads should increase. It will provoke improvement in mental toughness, concentration and diligence.
WHO IS IT FOR?
ENTHUSIAST COACH – You are parent or a volunteer in local soccer school. You wish to contribute to your community by working with the kids on the best game in the world.
BEGINNER COACH – You are starting your career as a coach and you are not quite sure what is the best way of doing it. The smart thing to do is to skip all beginner's mistakes and immediately start to strongly build your coaching skills and become the best coach you can be.
ADVANCED COACH – You are rising star with great experience and results on the field and you wish to improve your coaching style and refresh it with new and modern approach to the game because you know that – knowledge is power!
PRO COACH – The Program is designed to maximize your coaching performance and to take you to the next level in your coaching career with Knowhowsoccer method.
YOU WILL BE ABLE TO
This manual is the first in a series which breaks the coaching of soccer into specified age groups. This allows us to focus on specific drills and development requirements for the age of 13-17.
MAIN TOPICS IN THIS AGE GROUP
SHOOTING
DRIBBLING
PASSING
DEFENDING
CIRCUIT TRAINING
SMALL SIDED GAMES
HOW IT WORKS?
I  Yearly training program is divided in three semesters with progressive emphasize on developing technique as it's main objective.
II The weekly sessions have two to three objectives that are compatible with each other and intersect between them, covering technique, physical phase and tactical game understanding.
III During three weekly training sessions, objectives can be covered separately in each session, or divided during each session into warm up and progressed to the main part.
IV After period of time, objectives are repeating allowing player to experience all aspects of the game, correct and practice, and finally master the skill to eventually become an automatic movement used intelligently in a perfect time and space.
WHAT YOU GET
You will receive folder with Training Program. All files are in .pdf format and can easily be used with tablet or mobile. The Program contains:
SPECIFIC TRAINING PROGRAM

The sets of exercises grouped and selected by the objective are powered up with specific training program, created to be easy to use and follow.
All topics are placed on one page with training objectives guidelines to be effected weekly so that coach has it at one glance ready to use.
TABLE OF OBJECTIVES
You will be able to put focus on right topics and to know what you need to look for with your team, with table of objectives, with main coaching points for this age group, in one place.
Topics are (with a number of exercises):
Defending (x10)
Circuit training (x10)
Dribbling (x10)
Passing (x10)
Shooting (x14)
Small sided games (x20)
Total number of exercises – 74

SET OF EXERCISES
With over then 70 exercises, and most of them has variations, you will be able to make every session fun and challenging for players.
Be prepared for every session and your players will appreciate your work. With set of 73 exercises, and most of them has variations, you will be able to make every session fun and challenging for players. In same time you will be able to focus on what they do, not on what you have to do. On this way you will increase results.
Every exercise contains:
| | |
| --- | --- |
| AIM | Every exercise has it's main goal you should achieve. |
| SETUP | Start the exercises with a proper setup, position your players as the exercises require. |
| EQUIPMENT | Be always well prepared and get the right equipment so the exercises can be done properly. |
| INSTRUCTIONS | Detailed instructions allow you to follow the flow of every exercise and finish it successfully. |
| VARIATIONS | Most of the exercises have variations so you can challenge your players with new skills. |
| COACHING POINTS | All exercises have more than one goal you should be focused on. This is your guideline for every topic proposed so you can follow your coaching process. |
TESTING MANUAL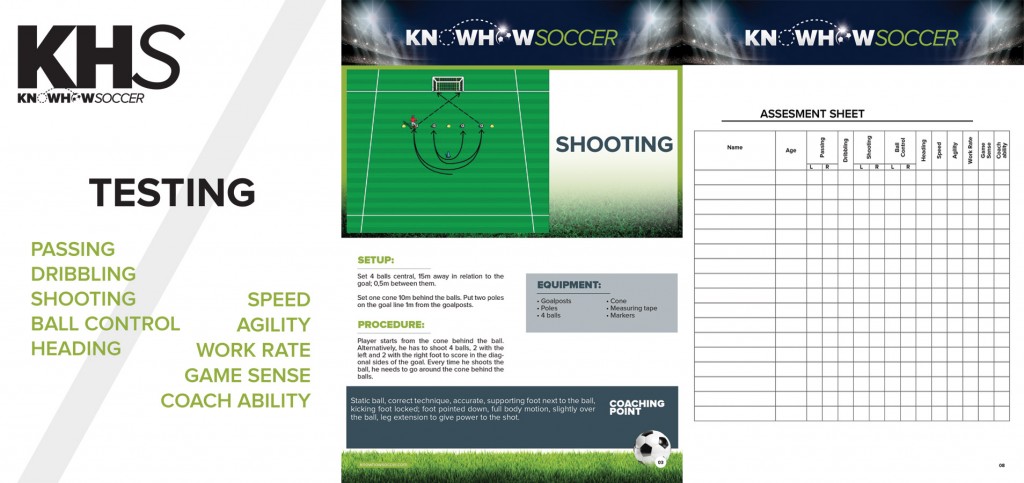 If you test your players, you are able to track their progress and to keep the right tempo with your team's achievements.

TAKE A LOOK AT SHORT VIDEO PRESENTATION ABOUT TRAINING PROGRAM FOR 13-17 AGE GROUP